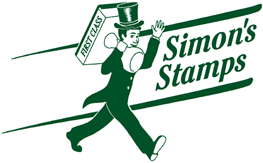 Simon's Stamps has been in business since 1989. Originally located in the Amherst, Massachusetts train station, we're now in a 4,200 square foot (390 square meter) manufacturing and retail space in Turners Falls, Massachusetts. We've grown in every year since 1989, because of our dedication to 3 simple business principles:
Fast Service

No Mistakes

Easy Ordering

Simon's Stamps concentrates on those three simple ideas. So far, none of our customers have objected. In fact, Simon's Stamps now has hundreds of wholesale accounts (such as print shops and office supply dealers,) as well as individual, business and government customers throughout the world.
If you want great service, we're here to provide it. Give us a try. Send us an order and see just how fast and easy it is.
---
Contact information:
Physical and Mail Address:
Simon's Stamps, Inc., 320 Avenue A, Turners Falls, MA 01376-1826 USA
Telephone:
from USA and Canada: 1-(800) HE-SIMON, or 1-(800) 437-4666
from all other countries: 1-(413) 863-6800

Fax:
from USA and Canada: 1-(800) 870-7888
from all other countries: 1-(413) 863-6804
Email:
info@simonstamp.com
---
Directions to our shop:
Simon's Stamps is located inTurners falls, Massachusetts, USA, just off Route 2. By car, we're about 2 hours from Boston, and about 3.5 hours from New York City. The nearest airport is Bradley Field (BDL) in Windsor Locks, Connecticut. Airport shuttle service is available from Valley Transporter.

Driving:
Take I-91 to Massachusetts exit 27. Take Route 2 East. At the sign for Turners Falls, turn South, crossing the Connecticut River bridge and continue on to Avenue A.



---
Hours:

We are open for business
Monday - Friday: 9:00 AM to 7:00 PM
Saturday: Closed
Sunday: Closed
Eastern Time (GMT -5).