Cutting Lines
A laser beam accurately cuts the specially processed pad material to within a tenth of a millimeter. These precise high-tech cuts separate and seal the different color fields.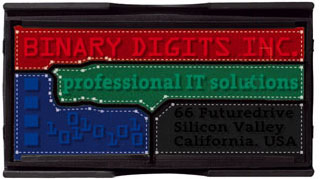 Color Fields
With our multi color stamps, you have lots of design options.
There are only two limitations: There must be a space of at least 0.1" (2.5 mm) between the letters or characters in the different color fields. And the minimum size of any color field must be 0.3" x 0.3" (8 mm x 8 mm).



The maximum number of text lines per stamp might be different because of the required distances (0.1") and the size of the color fields (minimum 0.3" x 0.3").
Examples of impossible Multi Color Impression stamps:

FIg. 1: Adjacent Colors. There must be 0.1" (2.5 mm) between any different color areas.
Fig. 2: Gradient can not be made, as ink colors must be in distinct areas.
Fig. 3: Photos don't usually work very well on stamps!
>> Click here to order Multi Color Rubber Stamps <<
<- BACK

Contact | Dealer Info | International Orders |
Blog | Employment | US Federal Government (GSA) Orders


© 2010 Simon's Stamps, Inc. | Custom Rubber Stamps


ITEX Member Orders

Free shipping to USA and Canada !
with 40.00 minimum order.
Limited Time Offer!
Overnight Shipping from $19.50!