Here are some more banners for your use. Thanks to staff member Thomas Dudley for his artistic work.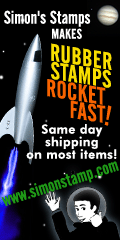 Contact | Dealer Info | International Orders |
Blog | Employment | US Federal Government (GSA) Orders


© 2010 Simon's Stamps, Inc. | Custom Rubber Stamps


ITEX Member Orders

Free shipping to USA and Canada !
with 40.00 minimum order.
Limited Time Offer!
Overnight Shipping from $19.50!